WHY BOOK WITH US?
What makes Rent a Villa in Tuscany unique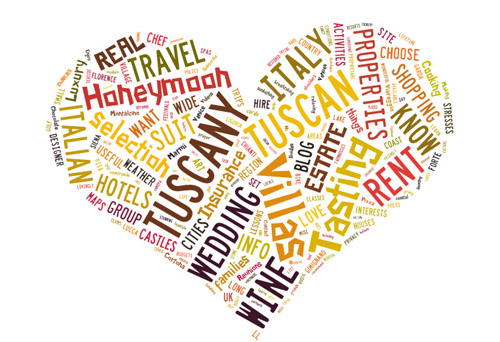 In the maze of Villa rental websites, why should you Rent a Villa in Tuscany from us? We believe your Tuscan holiday experience should start right from the moment you send in that first enquiry. So, what makes us different?


- WE ARE REAL PEOPLE -  In an ever more automated, instant world, we pride ourselves on being a family run company with real experience of Tuscany. We also have one of the top ranked, Tuscan villa rental websites on the internet. Amongst the jungle of thousands of Tuscan Villa Rental websites, run by people who have never set foot in Tuscany, we believe we stand out because behind the site are actual people who know Tuscany, speak the language and know the villa owners and service providers. We specialize in villas in Tuscany because we have decided to keep things manageable for our clients and most  importantly, provide our vast expertise to clients who book with us.


- WE ARE NOT JUST AN ANONYMOUS LISTINGS SITE -  Our site is not run on automatic, where properties can be listed by owners themselves who access the site, without extensive verification taking place.

So what does this mean in practice -
- You can be sure our villas actually exist (something a listings site can't guarantee)
- You can be sure the information provided is factual (something a listings site can't guarantee)
- You can be sure your questions are answered promptly in English by someone who knows the property (something a listings site can't guarantee)
- You have a bi lingual third party making sure everything is as stated, making sure things are clear to both sides and taking the stress out of organising your trip and making sure things runs smoothly. (something a listings site can't guarantee)
- You have a bi lingual organizer of services, many of which owners are unable to provide. (something a listings site can't do)


- WE KNOW TUSCANY - We have over 30 years of first hand knowledge of Tuscany - the place, the traditions, the people, the food, the wine, the festivals and yes, even the idiosyncrasies! Tuscany is our passion and we love sharing this passion with our guests. We know the best places to visit (we've been to most of them!). We know our villa owners (we've worked with most of them for many years). We've built up reliable local providers of just about every service you can think of.  We can give you lots of insider information that most villa rental sites could only dream about. None of this is quick to accomplish, it has taken many, many years to establish all these tried and trusted contacts.


- PERSONAL SERVICE - We pride ourselves on the personal service we provide. Right from the moment you submit your first enquiry, we are here to help, suggest and advise. We know that these days, a quick response is important, so  we answer immediately and if your query takes some time to gather information, we'll advise you and reply  within a few hours. Contact us and we always reply, ask our advice and you'll get a speedy, friendly, professional answer. Give us a call and you won't get a call centre operator on the other side of the world, you'll get first hand, knowledgable advice from someone who knows what they are talking about. We'll send you a shortlist of suitable villas, we'll give you our advice on the pro's and con's of each one and help you make the right choice.  But don't take our word for it, click here to read hundreds of comments left by our past guests.


- TUSCAN CONCIERGE SERVICE - When you book a villa with Rent a Villa in Tuscany, our complimentary pre arrival  Tuscan Concierge Service will work with you to organise any extra in villa services you may require or just to give you any advice you require. Our experts have the knowledge and contacts to make your Tuscan holiday experience extra special.


- HAND PICKED - Although our site isn't the biggest on the web, it's because we carefully select which villas get included. We don't have endless lists of villa pages as we have done the hard work and hand selected  the best for you. Not all make the grade and we review our portfolio each season to make sure we have the types of villas that we know our guests will be happy with. When we write a villa description we make sure it's as factual as possible. We provide clear and comprehensive arrival details together with directions and maps before arrival and co ordinate your villa arrival for you, which may include groceries on arrival, a welcome dinner or even chef service (on request, extra charges may apply). We don't only include villas which suit our personal tastes, everyone is different and we try to include quality villas of different sizes, styles and price levels to suit all our guests.


- ENGLISH SPEAKING CONTACT - We believe you get a number of important advantages by booking with us.  We are here to make sure all terms, conditions and descriptions are in clear English. We can also supply additional services that most owners can't organize and finally we are an English speaking contact in case of questions or emergencies.
Who better to help you select the perfect Tuscan holiday villa.
THE BEST VILLAS IN TUSCANY, AT GREAT PRICES, SELECTED BY PEOPLE WHO REALLY KNOW TUSCANY
Our advice on How to Choose a Tuscan Villa and what to expect when you arrive