AREZZO
Arezzo, information and advice on one of the quaintest Tuscan towns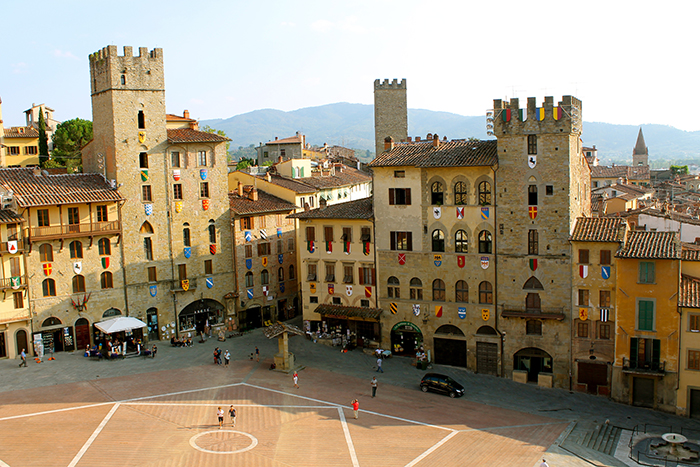 One of the quaintest little towns in Tuscany. The best way to explore it is on foot as the town is very small. Its size and convenient setting make it a great base for exploring this part of Tuscany.

ACCOMMODATION
We have a wide range of fantastic villas,in or very close to the city to suit all tastes and budgets. Browse our site or get in touch if you need our advice choosing your perfect villa in Tuscany.

ABOUT AREZZO
Here is a map of the town and surrounding area.

The town dates right back to Etruscan times and was known to the Romans as Arretium. It is also famous for Guido d'Arezzo, the Medieval abbot who invented "solfeggio" (the mnemonic music system known to many from the song in The Sound of Music that starts "Doe, a deer"). More recently, it was the setting for the Oscar winning film, "Life is Beautiful" written and starring local actor/comedian Roberto Benigni. The city also has a famous jousting pageant, which takes place in the main Piazza twice each year. This video shows some of the most interesting sights to see in Arezzo.
GET AROUND
Arezzo's historic old town is small enough to explore on foot. If you have a rental car, you can park in one of the municipal car parks dotted round the city walls, then walk up into the historic centre. Arezzo is a hilltop town and you will feel as though you are walking uphill pretty much everywhere. Wear comfortable shoes! There is a local bus service (there is also a "Centro Storico" line that covers the historic old town). The taxi service is efficient and not too expensive.

SEE
- Piazza Grande, the most beautiful square in Arezzo, is surrounded by marvellous old buildings and hosts the "Giostra del Saracino" twice a year.

-Arezzo Cathedral (Duomo), Piazza del Duomo. Daily 7 am-12:30 pm and 3-6:30 pm

- Church of San Francesco, Piazza San Francesco, Tel. +39-0575-20630.

- Museo del Duomo, (on the back side of the Duomo).

- Museo Archeologico "Gaio Cilnio Mecenate", Via Margaritone 10

- Museo Statale d'Arte Medievale e Moderna, Via San Lorentino 8

- Casa del Petrarca, home of famous Italian medieval poet Petrarch. Hours vary.
DO
- La Vita è Bella, Roberto Benigni's Academy Award-winning film was shot here in Arezzo, and as you proceed through the city centre, you will see colourful signs featuring pictures from the film at the specific locations of actual filming.

- The Antiques Fair, occupies Piazza Grande and many of the streets leading to it, with an array of some 500 stalls, which are fun to browse though. Takes place on the first Sunday and the Saturday preceding it of every month .

- Stroll through the streets, Arezzo has a charming old city centre, explore its small alleys and enjoy its quiet streets. A good panoramic view of the city can be seen from the tower of "Palazzo dei Priori" in Piazza della Libertà, or by walking through the "Il Prato" park up to the Medicea fortress.

- Joust of the Saracens, (Giostra del Saracino). An annual medieval festival where, "knights" on horseback representing different areas of the town charge towards a wooden target attached to a carving of a Saracen king and score points according to accuracy. Virtually all the town's people dress-up in medieval costume and enthusiastically cheer on the competitors. It takes place twice a year on the third Sunday of June and on the first Sunday of September.
EAT
Arezzo is famous for its cuisine. The most famous dishes from Arezzo are "Acquacotta", a bread soup made with porcini mushrooms and "Ribollita", a bread soup made with many different vegetables but you can also taste the wonderful Chianina Steak and all sorts of pastas. Arezzo's wines are also appreciated all around the world.

- La Taverna del Pittore, via Vittorio Veneto n.72, +39-0575-908050. 19:00-23:00.

- Miseria e Nobiltà, Piaggia S.Bartolomeo 2, near Piazza Grande, +39-0575-21245, 11:30-24:00.

- Il Saraceno, Via Mazzini 6, Arezzo (Just east of the Corso d'Italia in the old town), 0575 27644, Great place featuring local Aretine and Tuscan favourites at reasonable prices. Good selection of wines. Lots of locals, not so many tourists.

- Trattoria del Leone, Piazza del Popolo 11, Arezzo, 0575357927, This restaurant offers high-quality modern adaptations of traditional favourites with aplomb. Try their tasting menus or order a la carte.

- Il Boccon del Re, Via Carvour 42, Arezzo, 0575 22542, Just off the Piazza San Francesco, this place offers a menu of Tuscan fare and pizzas. Try the Pici or anything with a truffle sauce!