CORTONA
Cortona, information and advice about one of Tuscany's most beautiful towns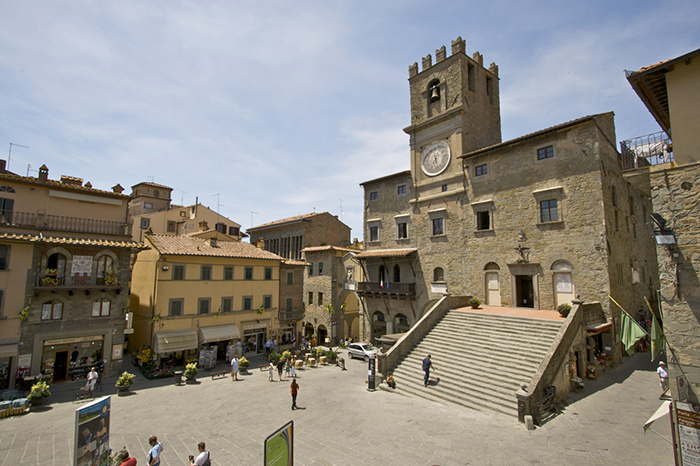 One of the finest towns in Tuscany. It is situated on the Umbria-Tuscany border. It has 25,000 inhabitants and stands at 600 metres above sea level giving it beautiful views over the Val di Chiana and Lake Trasimeno.
This beautiful little hilltop town is the perfect location for exploring many Tuscan and Umbrian towns and cities such as Arezzo, Montepulciano, Siena, Perugia, Assisi, Florence, Gubbio, Orvieto, Pienza and Lake Trasimeno.
We hope you find the information below useful when planning your trip to this area.

ACCOMMODATION
We have a wide range of fantastic Cortona villas,in or very close to the city to suit all tastes and budgets. Browse our site or get in touch if you need our advice choosing your perfect villa in Tuscany.
ABOUT CORTONA
The map below shows the town and its surroundings.
Cortona has magnificent panoramic views over the valley below and to Lake Trasimeno and Umbria in the distance. It has become increasingly popular in the recent years thanks to the book
"Under the Tuscan Sun"
by Frances Mayes and the film with the same title based loosely on the book.
VILLA SOLE
, which was used as a set in the film has now been converted into a luxury villa and is available for rent
SEE
The town dates back to Etruscan times and each century since has left its mark, right up to beautiful piazzas built by the French during the Napolionic wars.

Some of our favourite sights are -

- Palazzo Comunale. The Town hall,  built in 13th century it provides a lovely backdrop to daily life.

- Piazza della Repubblica. the most famous piazza.
 
- Piazza Signorelli. next to the Piazza della Repubblica and less crowded. On Sundays it has a flea market selling antiques. The Teatro dell Signorelli is also here.

- Piazza Garibaldi. Built by the French during the Napoleonic wars.
EVENTS
- The Cortona Steak Festival, an annual event showcasing the local Chianina beefsteaks. A giant, 14 metre  barbecue  is  the setting for this open air event, which takes place in a park near the centre of town. Great family atmosphere, come along, enjoy the music, food and wine. Tuscany at its best.
EAT
Tuscany can get crowded during the holiday season, so we always recommended reserving a table, especially for dinner. Here are a few of our favourite restaurants.  For less fancy eating options, there are take-away pizza shops around Piazza della Repubblica.

- Trattoria Dardano, Via Dardano, 24, Closed on Wednesday.

- Trattoria La Grotta, P.Baldelli 3,  has outdoor tables in a secluded courtyard. Closed on Tuesday.

- Osteria del Teatro, Via Maffei, 2

- Hosteria La Bucaccia, via Ghibellina n. 17

 
Ice Cream
- Gelateria Linus, Piazza Signorelli, 24


Wine
- Caffè Degli Artisti, Via Nazionale, 18,  Owned by an Italian-Finnish couple.


Pubs
- The Lion's Well, Piazza Signorelli 28


Nightlife
- Route 66 Cafè, Via Nazionale, 71, Angolo Piazza Garibaldi,



Our BEST TUSCANY APPS page, also has lots of useful mobile apps for your phone or tablet.