PISA
Pisa, information and advice on the "leaning tower" city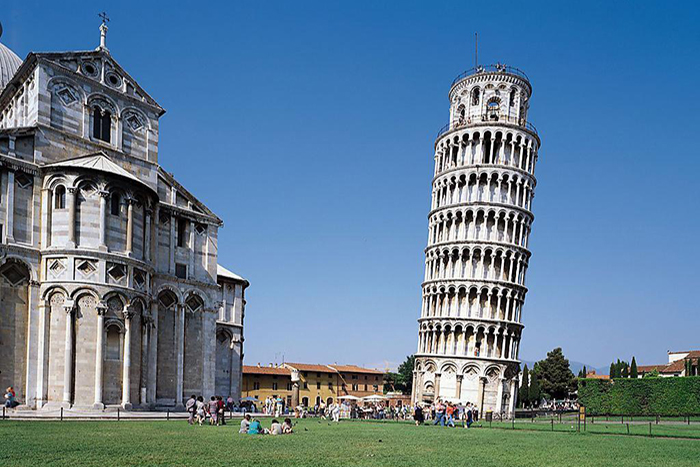 Pisa is a beautiful coastal town in Tuscany, famous for its leaning tower, but worth visiting for much more. The best way to explore Pisa is on foot or by bike as the town is very small. Its size and convenient setting make it a great base for exploring the Tuscan Coast.
ACCOMMODATION
We have a wide range of fantastic Pisa villas,in or very close to the city to suit all tastes and budgets. Browse our site or get in touch if you need our advice choosing your perfect villa in Tuscany.
ABOUT PISA
Here is a map of Pisa and the surrounding area.
Although Pisa is best known for the world famous Leaning Tower, those who come here with their minds already made up that the Tower is the only thing to see may miss the rest of the architectural and artistic marvels of this beautiful city.
The half hour walk from the Campo dei Miracoli to the train station runs through a pedestrian area with lots of interesting sights, shops, and restaurants. As Pisa city centre is very small, the best way to see Pisa is on foot, enjoying the sights and the atmosphere.
GETTING AROUND
Pisa has regular trains to and from Florence (usually three per hour), to and from Lucca (usually every hour) and is also accessible by bus, and has an international airport.

Pisa Centrale is the main train station of Pisa. Rome to Genova trains stop at Pisa Centrale. If you are planning an in-route visit to Pisa, it is also convenient since Pisa Centrale has Left Luggage service open from 6:00 am to 9:00 pm.

Pisa Galileo Galilei Airport is the main airport of Tuscany and is served by several airlines operating hundreds of weekly flights to national and international destinations. Numerous companies offer charter flights to and from a number of European and non-European destinations. Flying to Pisa is really cheap and easy: the most recognized low-cost airlines serve Pisa. The airport is close to the city centre - it takes only a few minutes to reach the centre by bus, train or taxi. It is even possible to walk , which takes around 20 minutes.
SEE
- The Piazza dei Miracoli or Field of Miracles is to the north of central Pisa. It's an UNESCO World Heritage site and contains the city's most famous sights:

- The Leaning Tower, The structure was originally conceived as the cathedral's bell tower. Construction began in 1173 and the tower started leaning soon afterwards due to subsidence of the ground underneath its base. A project to keep the tower from leaning more and tipping over finally reached a successful conclusion in 2001, and the tower is again open to those wishing to climb it.

- Pisa Cathedral, the splendid cathedral, contains artwork by Giambologna, Della Robbia, and other major artists. Fine Romanesque style with double aisles and a cupola, a huge apse mosaic partly by Cimabue, and a fine pulpit by Giovanni Pisano in late Gothic / early Renaissance style.

- The Baptistry, A large round Romanesque dome with many sculptured decorations and a fine view up top; climb this if you want a great view with the Leaning Tower visible in your photos. Arabic-style floors, pulpit by Nicola Pisano (father of Giovanni), and fine octagonal font. At regular intervals, the ticket-checker-guard at the entrance comes into the baptistery and gives an audio-treat of echo-effect. The guard shouts out a few sounds, which when echoed sound like pure beautiful music. Do not miss it. You can also cast your inhibitions to the wind, stand by the wall, and sing long notes that turn into chords by yourself, as the echoes go round and round the dome of the building.

- Cemetery, a huge cemetery building with lots of interesting art, including a collection of ancient Roman sarcophagi and splendid medieval frescoes.

DO
- On June 16th Pisa holds the Luminara festival, held for the patron saint's day (San Ranieri). At sunset, all the lights along the Arno are dimmed and more than 10,000 candles are lit, which makes for a spectacular sight from the Ponte di Mezzo. Various activities are organized in the streets and the night ends with a big fireworks display.

- Another summer attraction is the Gioco del Ponte, an annual historical event held on the last Sunday of June, in which the two sides of the city (Tramontana and Mezzogiorno, geographically split by the Arno river) participate in a historical procession, then challenge each other to a physical match in which their 20 person teams, try to conquer the "Ponte di Mezzo" (the main bridge in Pisa) by pushing a trolley in order to force the rival team off the bridge.
EAT
As a general rule, prices are higher near the Leaning Tower. A good alternative is to head instead to the central area (5-10 minutes walk from Piazza dei Miracoli) where you can find good, value for money restaurants. Here are some good spots for eating.

- Osteria di Culegna, Via Mercanti (on the main road). Reasonable prices in a friendly environment, good food and typical Tuscan recipes. Closed on Sunday.

- Numero 11, 47-49,Via San Martino. reasonable prices, good food and generous portions in an informal setting.

- Vineria di Piazza, Piazza delle Vettovaglie. Serves great wine and a few, good, cheap, traditional dishes.

- Il Montino, Via del Monte. Great place to get fine pizza and excellent focaccine at a very cheap prices. You can eat in or take away.

- La Stanzina, Via Calvalca close to Piazza delle Vettovaglie. Good food at reasonable price in a cozy environment. Many of the recipes come from southern Italy.

- Osteria dei Cavalieri, Via San Frediano very close to Piazza dei Cavalieri. Quite expensive but very good. Traditional Tuscan dishes.

- La Mescita, Via Cavalca very close to Piazza delle Vettovaglie. An expensive but very good choice. They serve both traditional and more sophisticated food.

- La Reginella, Via di Gello at via Filzi. 15 minutes walk from the tower or take bus number 2. Great pizza,

- Funicolì, Via L. Bianchi 33. An excellent pizzeria just outside the walls, not far from the Leaning Tower. It is not a touristy place and the prices are reasonable. Pizza is very good and the appetizers (antipasti) are even better. The place is not very big so it is best to pop in early and reserve a table, especially during week-ends.

- La Lupa Ghiotta, Viale Francesco Bonaini, 113 ((from the station walk towards piazza Vittorio Emmanuele, then turn right in Viale Francesco Bonaini)), 050.21018. Has very good food at reasonable price in a cozy environment.