LUCCA
Lucca, information and advice on this charming Tuscan walled city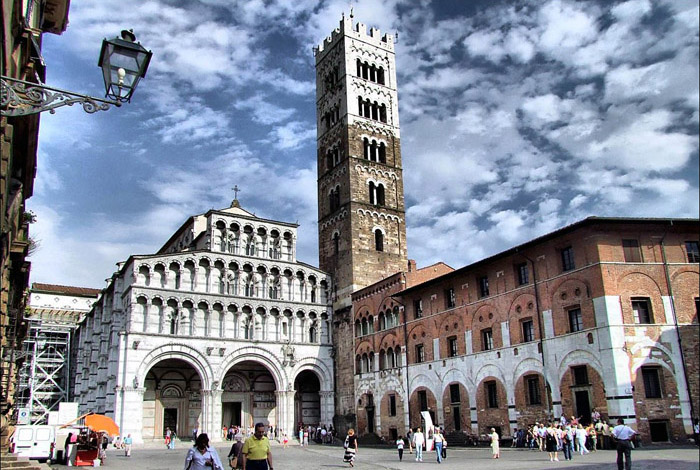 A delightful little Tuscan town. It's a small yet friendly city, easily walkable. It makes a great base for exploring this part of North Western Tuscany.
ACCOMMODATION
We have a wide range of fantastic villas very close to the city, to suit all tastes and budgets.  Browse our site or get in touch if you need our advice choosing your perfect villa in Tuscany.
ABOUT LUCCA
The map below shows the city and its surroundings.
Lucca, unlike its more famous hilltop neighbours, with their steep, narrow alleyways, sits on a plain surrounded by massive 16th century walls, once used for defence against marauding armies, but today the setting for locals taking leisurely bicycle rides. Historically, this town has had a turbulent past, however these days it has an air of elegance and charm, attracting a more discerning visitor than Florence or Pisa. It is also sufficiently off the normal tourist trail to have kept its civility and slower pace of life. Not surprisingly, the favoured form of transport inside the city walls is the bicycle.  This fascinating town is home to some of Italy's finest medieval and renaissance architecture, which today houses top class boutiques, antique shops and superb restaurants. Many stunning Villas are situated in the hills surrounding the town within easy reach of Lucca and also within 30 minutes of the Versilian coastline with its miles of safe, sandy beaches and 'chic' resorts, such as Forte dei Marmi. This video gives a glimpse of the relaxing atmoshere in Lucca.


GET ABOUT
Lucca is a small city, so you may find it more enjoyable to simply walk around. Driving inside the walls is mostly reserved to residents, so park your car (there are car parks outside the walls, the largest two are on the North and South side, and a couple inside, accessible by non-residents) and rent a bike. Several bicycle rental locations can be found near the North entrance to the city, Porta Santa Maria, near Porta San Pietro and walking from Porta Elisa towards the centre. The city walls are perfect for a relaxing , easy 4km bike ride.
SEE
- Roman amphitheatre - To be found off the Via Fillungo, main entrance by Piazza Scarpellini.

- Old city walls, either walk or cycle for a unique bird's eye view of Lucchese life.

- Torre Guinigi - a tower with trees atop it, a very dramatic sight, with good views of the city. No lift, lots of stairs!

- Torre delle Ore - ancient clock tower with original clock still working; is it possible to go upstairs on this tower too.

- Via Fillungo - Main street full of shops and bars. Great for people watching.

- Duomo di San Martino, Piazza di San Martino. Romanesque cathedral dating to 14th century. Includes a sculpture of the crucifixion attributed to an eyewitness, Nicodemus. Some interesting carvings in the marble exterior, including a labyrinth.

DO
- Puccini Festival, The composer, Puccini was born here, and operas are held regularly during the summer months.

-Music Festivals, many top names, including Elton John, Mark Knopfler, Anastasia, Simply Red, George Michael to name but a few have played concerts in Lucca in the last few years.

- City Walls. Walk or cycle on top of the ancient city walls. The entire perimeter is approximately 4 km. This gives a good introduction to the city layout. A unique Lucca experience.

EAT
BUDGET
- Trattoria da Leo, Via Tegrimi 1, 0583 492236. Fairly typical Tuscan cuisine with some Lucchese touches. The menu is only in Italian (a good sign). Reservations are a good idea or arrive around 7:00. An excellent meal for the price.

- Pizzeria La Bersagliera, Via Pisana 2136, 0583510758. If you happen to have a car, do check out this pizzeria, just ten minutes drive outside of town, it's worth it. The owners come from Calabria, so you are likely to find all kinds of spicy salami, olives, mushrooms etc on top of your pizza. You can't make reservations: Be there by 7 pm.

- Forno a vapore Amedeo Giusti, Via Santa Lucia 18/20, 0583 496285. Strolling along the Torre Guinigi (the one with trees on top), you'll probably sniff some irresistible oily and floury smell. It's called focaccia, the Lucchese idea of a snack.
MID RANGE
- Vecchia Trattoria Buralli One of the best restaurants in Lucca, practically hidden on Via San Giorgio . Constantly changing menu and an extensive wine list.
FINE DINING
-Buca di San Antonio situated just off the Piazza San Michele and enjoys a high reputation for local dishes prepared in the traditional Lucchese style.

-Ristorante Giglio in the Piazza Giglio is excellent - offering wonderful Lucchese cuisine, attentive staff and a delightful terrace overlooking the square.