MONTALCINO
Montalcino, information and advice on the wine town of Tuscany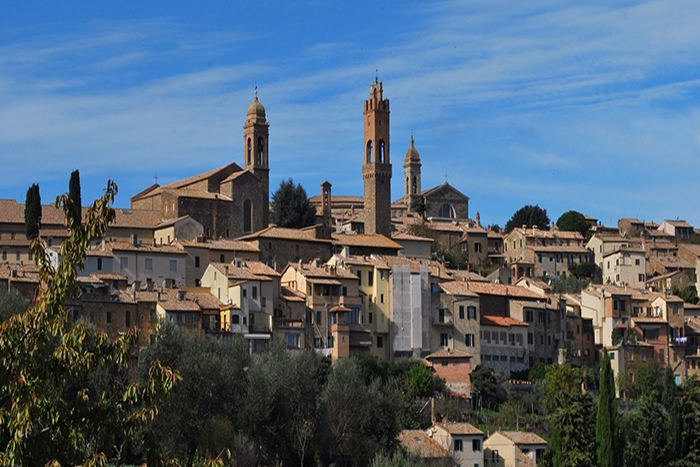 Montalcino is a small hilltop town, which is famous for its Brunello di Montalcino wine. The best way to explore Montalcino is on foot as the town is very small. Its size and convenient setting make it a great base for exploring this part of Tuscany.
ACCOMMODATION
We have a wide range of fantastic Montalcino villas,in or very close to the city to suit all tastes and budgets. Browse our site or get in touch if you need our advice choosing your perfect villa in Tuscany.
ABOUT MONTALCINO
Here is a map of Montalcino and surrounding area.
The town is located to the west of Pienza, close to the Crete Senesi in Val d'Orcia. It is 42 km from Siena, 110 km from Florence and 150 km from Pisa.

The hill upon which Montalcino sits has been settled probably since Etruscan times. The very high position of the town offers stunning views over the Asso, Ombrone and Arbia valleys of Tuscany, dotted with silvery olive groves, vineyards, fields and villages.

Montalcino, owes its recent economic growth due to the increasing popularity of the town's famous wine; Brunello di Montalcino, made from the sangiovese grosso grapes grown in the area, which surrounds the town. The number of producers of the wine has grown from only 11 in the 1960s to more than 200 today, producing some 330,000 cases of the Brunello wine annually. In addition to Brunello di Montalcino, which must be aged five years prior to release, Rosso di Montalcino (DOC), made from sangiovese grosso grapes and aged one year, and a variety of Super Tuscan wines are also produced in the Montalcino area. This video gives some information about this famous wine.

SEE & DO
- Sightseeing. Montalcino is situated in the Val d'Orcia, a UNESCO world heritage site. The landscapes in this area are breathtaking, early mornings as the mist swirls around the vineyards, late evening as the sun sets. Every season presents views that will make you want to stop and car and stare every few kilometres. Jump in your car and just tour around the area, you won't be disappointed.

-Wine Tasting. The fortress in Montalcino, serves as an atmosheric backdrop to a spot of local wine tasting. The best Brunellos are available by the glass and if your bank balance allows, you can even invest in a bottle or two. Sit outside, listen to the classical music, whilst sipping on some of the best wine in the world!

- Serious Wine Tasting! For those who want to really experience the wines made in Montalcino, in the company of a Tuscan wine expert, Click on the "Wine Tasting" link on the right, You'll find more information on a wide range of wine tasting and wine tours. Cheers!
EAT
Hotel Restaurant Il Giglio
Hotel Giglio is not simply one of the oldest hotels in Montalcino but also a fine restaurant. Mario, Maria or their son Michele will introduce you to their rather special way of preparing and presenting a variety of both Montalcinese and Tuscan dishes while you enjoy the delightful surroundings and scenery from this inner village restaurant.
Moderate prices. Closed Tuesday
Via S. Saloni 5, Montalcino
Tel: 0577 848167

Taverna del Grappolo Blu
You'll find Luciano in this family run trattoria, a few yards from the central piazza, serving traditional Tuscan dishes in rustic ambience typical of Montalcino. Great menu, excellent wine list. Especially delicious is the Tuscan Crostini, Zuppa di Fagioli, Stinco and Crostata di Limone Moderate prices. Closed Friday.
Scale di Via Moglio 1.Montalcino
Tel: 0577 847 150

Osteria Porta al Cassero
If the weather is balmy you can enjoy your Montalcinese meal in the courtyard, but that means you won't see as much of Piero as he dashes around with plates and bottles making sure your visit to this family Osteria is absorbing and fun! Don't miss the Fegato e cipolli, liver and onions, it's a specialty of the house, the soups are delicious, and the maccheroni superb. The simple menu is loyally based on the cuisine of Montalcino.
Very Moderate prices. Closed Wednesday.
Via Ricasoli 32. Montalcino
Tel: 0577 847196

Il Grifo, Pizzeria Ristorante
Pizza styles vary dramatically in Italy. Thick crusty pastry in the Veneto cut into rectangles, even higher in Liguria, but for a thin pastry, tasty, Tuscan, wood fired oven, pizza in Montalcino, try Federico and Mira's Pizzeria Ristorante Il Grifo. A long pizza menu with interesting toppings as well as a variety of typical Tuscan dishes.
Moderate prices. Closed Monday.
Via Mazzini 18,Montalcino
Tel: 0577 847070

Osteria Al Giardino
Gianluca and Paola could not have done better when they added their personal touch to the interiors of this ageless osteria (one of the first in Montalcino). A warm, inviting Tuscan atmosphere awaits you inside, or if you prefer, a garden setting directly opposite the restaurant's front door. You'll find an interesting menu of not only Montalcino, Tuscan cuisine but also a selection of Gianluca's creations from other regions of Italy.
Moderate prices. Closed Wednesday.
Piazza Garibaldi 10, Montalcino
Tel: 0577 849076

Les Barriques - Locanda/Restaurant
Don't be mislead when you arrive at Les Barriques, yes this might seem like a wine bar and it is, but Guido and Gigliola's Les Barriques is also a very fine restaurant. The setting is superb, the wine list is never ending and the Tuscan food is simple and tasty - you can even watch while your meal is being prepared! Who could ask for more.
Moderate to very moderate prices. Closed Tuesday.
Piazza del Popolo 21/22, Montalcino
Tel: 0577 848411

Re di Macchia
Re di Macchia is in the hands of two well known local restaurant personalities; Roberta's kitchen will delight your palate through her splendid choice of dishes while Antonio attends to your table needs and guides you through his personally selected wine cellar.
Moderate prices. Closed Thursday.
Via Saloni 21. Montalcino
Tel: 0577 846 116

Sciame
Pronounced 'shamey' – which is to swarm – and that's exactly what the Montalcinesi do – like bees to the honey pot. Mara will look after you in one of the oldest eating places in Montalcino, where you can be sure of wholesome food, well prepared and tasty. The pasta dishes are dependably good, the grill offers excellent steaks and many dishes are served with a Brunello di Montalcino sauce.
Moderate prices. Closed Tuesdays.
Via Ricasoli 9. Montalcino
Tel: 0577 848 017

San Giorgio, Pizzeria Ristorante
San Giorgo's pizza menu will leave you wondering which to order. Here you'll find a list of incredible taste sensations served direct from their wood-fired oven. And if that's not enough, then consider their offerings of typical Tuscan dishes that represent both Montalcino and the surrounding villages of southern Tuscany. A warm inviting atmosphere awaits you in this characteristic, spacious restaurant in the heart of Montalcino.
Moderate prices. Closed Wednesday.
Via S. Saloni, 10/14 Montalcino
Tel: 0577 848057