WHAT TO EXPECT FROM YOUR TUSCAN VILLA
Top Tips from the Tuscan Villa Experts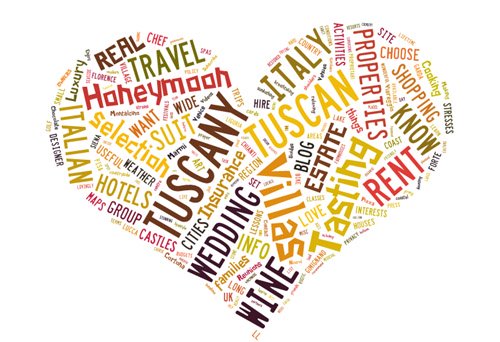 It's important that you get to and enjoy your Tuscan holiday villa. However, different nationalities have different expectations on what is "standard" and "normal". From experience, here are some points worth remembering.

1. TRANSPORT - Think about your transport arrangements in advance. Most villas are in country locations, a car is pretty much essential. Better to hire one at the airport in advance, you can get one delivered but you'll still need to get to the villa first. We can arrange an airport pickup if you prefer (get in touch with our Tuscan Concierge Service for a quote).  Remember, larger cars/minivans can be in short supply in high season. Make sure your credit card has enough funds to cover the deposit and your international driving licence is valid. Public transport in country areas is not really an option, very few villas are within walking distance to stations, supermarkets etc

2. VILLA ADDRESS - Sounds obvious, but PLEASE, PLEASE don't leave home without knowing where you are going! Take the address/directions/contact numbers that we always supply (if you haven't got them, check your spam folder or contact us, we'll resend them). Please also give them to others in the group who may be travelling at another time/by another route/in another car etc. You'd be surprised how many people leave home without any information about where they are going!
If you contact us on the day of arrival for directions, we will try our best to help, but it may be difficult or impossible for you to receive them.

3. SAT NAV - Sat Nav systems are a wonderful invention, BUT a few  points worth mentioning - they are just dumb machines, they don't know if you want the 6 hour scenic route or just want to get there asap unless you set them the way you want. Secondly, country locations can be difficult to set on a sat nav as many don't have exact addresses. Thirdly, remember to enter the FULL names of Italian towns (there are dozens of San Giovanni's and Sesto's and Poggio this, that and the others!) and lastly sometimes the signal in country locations can be sporadic, in this case, please use the written directions that we always send you. Here's an article on Sat Navs and apps you may find useful.

4. WHAT IS SELF CATERING? - Most Tuscan villas are self catering. This means the owner or a caretaker will meet you, give you the keys and explain how certain appliances work and then leave you to enjoy your holiday. You will have their/our contact details for emergencies.

5. CHECK IN/OUT - Check in/out times are to allow the cleaners time to prepare the house. Try not to arrive hours early as the villa won't be ready. Try not to arrive at midnight as most owners/caretakers don't live at the villa. You'll be given a contact phone number, please inform the owner/caretaker if you are delayed etc. If you know that you will be arriving late, please advise us in advance, we can arrange for the keyholder to be there or provide alternative arrangements. Early / late arrivals MUST be arranged in advance (some villas charge for late arrivals)

6. CASH ON ARRIVAL - Most security deposits and local tourist taxes are payable in cash (Euros) on arrival.  Almost no villa owners are able to accept credit cards or other methods of payment. Organise the amount beforehand as a local bank atm probably won't issue you with enough in one day. By the way, let your bank know you are going to be withdrawing cash in a foreign country before you leave, many will automatically block your card when something "unusual" happens.

7. STAFF SERVICES - If the villa has staff they will be available for the hours agreed and for the services agreed on (ie 3 hours cleaning, breakfast service etc as listed with your villa details). If the villa has a reception it will be open at certain times only. Self catering villas don't offer a 24 hour hotel type service. You will have a contact number for emergencies. If staff have a day off, please try not to contact them on their day off apart from a real emergency. If you know you'd like extra cleaning and / or extra linen changes, let us know before you arrive so we can organise it for you and they can book in staff etc. This makes things a lot easier and ensures you get the service you prefer. Cooks / chefs book up early, particularly in busy periods, so they are best booked in before you leave. If you request a cook at the villa they may already be busy and it will be difficult to get availability.

8. THE BASICS - Although most villas supply a few basic items (salt, pepper, oil etc) don't expect or count on things like dishwasher tablets, washing up liquid, toilet roll etc. Although, most owners supply starter amounts of most basic items, this is at the discretion of each owner. When these are finished guests need to shop for more. If you need some starter groceries then many villas offer a first shop service to tide you over 'til you get to the local supermarket. Most arrivals are on Saturdays and especially in country areas the shops are usually closed on Sundays. It's worth getting a few things in for breakfast etc even if you go to a local restaurant the first evening. A first grocery shop is intended as a starter amount to tide you over 'til you get to the shops and is not intended as a full shop. Some villas charge for the staff time to do the shop plus the cost of the food, others provide the service free of charge and you pay the actual cost of the food on arrival.

9. LINEN AND TOWELS - Most villas supply linen and towels (a few at the seaside don't but you'll be informed if that's the case). They are usually changed weekly on a Saturday, so if you are only staying 1 week there will be no change. Extra changes are possible but charged. Some villas charge for pool towels.

10. BABY EQUIPMENT - Items such as high chairs, cots etc are usually available on request (some villas charge, some don't) Make sure you've requested them in advance. Villas have 1 - 2 of each item. Let us know in advance and we can check how many are available.

11. PLUGS/SOCKETS - Plugs and sockets in Italy are different from other countries! Bring adaptors (a few villas may have them but again don't count on it).

12. INTERNET - Wifi Internet access is becoming standard at most villas, some charge, most don't. A few villas are in areas with poor coverage. Check beforehand if it's on your "essential" list.

13. PHONES - Mobile phones, make sure yours will work in Italy (phones in N. America, Asia can work here but check the band) also check you have signed up to any International travel deals and also how to unblock your phone if the provider blocks it when you go over a certain spend. Also let us know your mobile contact number in case we need to get in touch.

14.  POWER - Power is expensive in Italy. Although air con, for example, is available in many villas, make sure you've understood how much it will cost, it is normally charged on the amount you use and payable in cash on departure. Also remember that air con only works when the windows are kept closed, putting it on full then opening the windows because it's too cold not only defeats the purpose, it will work out very expensive.

15. POWER LIMITS - Houses in Italy have a certain domestic power supply (usually 3KW). This means if you put every appliance in the house on all at once the power will probably trip off!

16. WATER - In a hot Italian summer water can get scarce. Please don't waste it. In exceptional circumstances the local council may issue a hose pipe ban, meaning the lawn may not get watered for a few days.

17. IT'S A FOREIGN COUNTRY! - Most Tuscan villas are converted country farmhouses. When renovating them, most owners have tried to retain the local architectural style and traditions. This means terracotta floors, limewashed walls etc. Other things you'd expect at home may not be supplied (ie a kettle, but you will get an Italian coffee maker and tiny coffee cups!). Most U.S. Japanese and Australian DVD's won't work here. Check what region is on the box.

18. BUGS - Insects, bugs and creepy crawlies! Many villas have screens fitted and/or have air con installed. If you are bothered by mosquitoes outdoors (summer months), there are citronella candles (yellow) in most shops locally. It is always a good idea to pack a good insect repellant of your choice and an insect bite cream before travelling. These are also available locally at some shops and at chemists. Plug in adaptors are also available in shops locally for indoors. Insects will be present especially in country locations and it isn't possible to eliminate them completely. Insects are in much less numbers in early Spring, Autumn and Winter.

19. POOLS - Most villas have outdoor pools, which are open from approx May until end Sept. If you are coming earlier or later check with us, some have solar panels or other forms of heating, which can be used (usually charged). A few villas have indoor pools. If it's important let us know.
20. USE OUR TUSCAN CONCIERGE SERVICE - Need an airport pick up? want to organise a chef for a special dinner? want to learn how to make real Italian pizza? get in touch with our concierge experts, they will sort it out for you.

21. PROBLEMS, LET US KNOW A.S.A.P. - If you have any serious problems during your stay, get in touch as soon as you can and we will do our best to help and sort things out whenever we can.

22. YOUR TIPS - Been to Tuscany?, got any tips or suggestions for other guests. Please leave a comment below.

Most of all, Enjoy your Holiday in Tuscany!