HOW TO CHOOSE A TUSCAN VILLA
Advice and suggestions from the Tuscan Villa Experts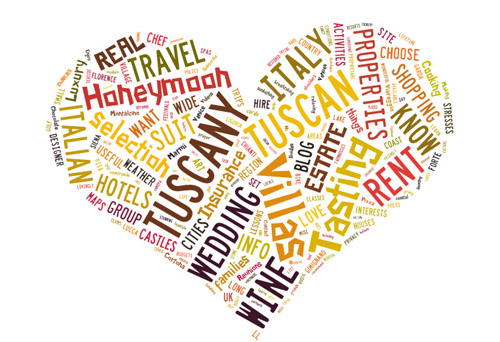 Choosing a holiday villa in Tuscany for your family and friends isn't easy. Follow our advice and suggestions to make sure you choose exactly the villa, which best suits your group, get there safely and enjoy every moment of your Tuscan holiday. Remember, we know Tuscany like the back of our hand and have years of experience helping guests choose their perfect Tuscan villa, if you need any help or advice please get in touch, we'd be delighted to hear from you.

1. GROUP SIZE - Decide on your group size. By this we mean not just the total group size, the breakdown of the group is important, especially when organizing beds. How many couples, singles, kids, teenagers etc will determine, which villa suits best. Some villas have  rooms, which can be made twins or doubles. Others have adjacent converted barns, which are great for teenagers, some have extra beds for kids. Sharing with a group of friends can be economical and you get the extra space and services of a bigger property. A much bigger villa may even be worth considering for a smaller group, if the price is right! Ask our advice and we'll prepare a shortlist of suitable properties.

2. SPECIAL NEEDS - Any special needs, ie older guests who may have trouble climbing stairs etc some villas have bedrooms on the ground floor, a fenced/gated pool for younger kids etc How important is privacy? do you want to meet other guests (can be fun for kids to meet others), an owner who lives nearby (useful for local insider knowledge) or do you prefer a nice relaxing time on your own.

3. ESSENTIALS LIST - What facilities are "essential", "desirable" "would be nice but not essential"  for your group. Everyone's idea of the "perfect" villa is different. Air con, wifi, sat TV, private pool, modern interiors, country location, walking distance to restaurants, staff etc make a list of what's important to you and your group.

4. AREA - Does your group have any preferences regarding area. Tuscany is a big place (abt the size of Wales!). If you've never visited it, you may prefer a villa near the main cities for sightseeing etc. If you've done the main sights then you may prefer a villa, which is in a quieter country location. The Tuscan coast is also very popular with families (however, rentals can be minimum of one month in high season).

5. AIRPORTS - Distance from an airport can be a deciding factor for some people. Pisa, Florence, Bologna, Rome, Bergamo, Verona, Venice, Milan. The closest are Florence or Pisa (the budget airlines usually fly into Pisa), however past guests have used others (Rome is only a couple of hours drive on the motorway). Your decision, how far do you want to drive to get to your villa?

6. DISTANCE AS THE CROW FLIES - Distances on a map may not give you a realistic idea of traveling distances. A villa which seems farther from Florence may actually be on a fast train line or close to the motorway, whereas a villa which seems closer may be on a windy country road or near a slow train line, which actually takes longer to get to the city.

7. HOW FLEXIBLE ARE YOU? - Dates, are they fixed or flexible? Rentals are normally Saturday to Saturday. Seaside villas are rented monthly or even 3 monthly. However in low season you may get mid week arrivals or shorter stays.
8. USE OUR CONCIERGE SERVICE - We are here to help, it's free and we can help you organise various in villa services such as pre arrival starter groceries, first evening chef service, pizza making lessons - to name but a few of the Tuscan Concierge Services available.

Ok, you've chosen your perfect Tuscan villa. So, what will it be like?
What to Expect From Your Tuscan Villa