SPAS IN TUSCANY
Spas in Tuscany, pamper yourself in one of Tuscany's top spas
Relaxing Thermal Spas in Tuscany have been renowned for their healing powers since Roman times, however these days there is much more to a spas in Tuscany than just the medicinal side – a wide range of traditional and modern wellness and beauty treatments, sumptuous rooms, gourmet cuisine and a level of luxury once enjoyed only by the likes of the infamous Medici family is now available to everyone.
Tuscany boasts some of the most luxurious spas in the world. Many spas in Tuscany are built around natural caves where hot thermal water has bubbled from the ground for thousands of years. Combined with world class service, sumptuous accommodation, top class food and wines and you can see why spas in Tuscany resorts are famous the world over.

Click on the photos/links below for more information about Spas in Tuscany.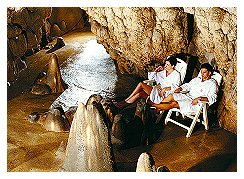 GROTTA GIUSTI NATURAL SPA RESORT

Monsummano Terme, Florence

30 minutes from Florence

Surrounded by a landscaped park in the heart of the Tuscan countryside, the Grotta Giusti Terme Hotel is one of the most luxurious spas in Tuscany. The spa is situated near the mountains of Monsummano, just outside Florence. The restored nineteenth-century villa, which houses a hotel, restaurant and a spa, is oriented around a natural cave with an underground lake that is renowned for its restorative healing powers. Discovered over 150 years ago, the cave, with three distinct zones of heat, is at the heart of the Grotta Giusti experience.
The hotel also offers fitness classes, excursions to nearby towns and villages, and golf packages (the course is five minutes away). This wonderful spa in Tuscany attracts couples who enjoy the tranquil location, mothers and daughters enjoying a getaway together, and visitors in search of a healthy vacation.

• Thermal grotta with a hot water underground lake
• Mud therapy, ozonised baths in thermal water, inhalation treatment
• Aesthetic Medicine Centre, thermal swimming pool, gym

About the Spa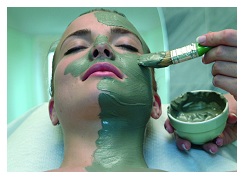 The spectacular natural thermal cave, or the Grotta, is the focal point of this spa in Tuscany. It is divided into different zones that are experienced as increasingly hot, though this is due to the degree of humidity rather than an actual variation in temperature. Paradise, the least humid, and thus the least hot, is the starting point. Purgatory, sometimes called Limbo, features a picturesque lake whose waters maintain a constant temperature of 96 degrees. Spa-goers generally spend the most time in the third area, known as Hell, where the humidity is 100 percent; detoxifying through perspiration. The cave is also known for its interesting stalactite and stalagmite formations.
Grotta Giusti features complete medical services. A staff dietitian will discuss your specific nutrition needs and goals, and you can also choose other procedures including a medical-check-up, a postural analysis, a dermatologic consultation, and a stress test. During the Sounds of the Mind, a new treatment at the spa, a medical team analyzes your brain frequencies and transfers them onto a personal musical C.D. Grotta Giusti also offers the latest in anti-aging therapies that include several types of chemical peels and a microdermolift with Vitamin C or AHA. The spa has a new department for Oriental Medicine.
Guests can use the fitness center with cardio equipment, work out with a personal trainer, or take a group class (yoga, weight training, and more.) If you want to combine exercise with adventure, you can go rock climbing in the Grotto or swim in the underground lake.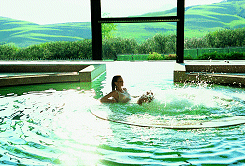 FONTEVERDE NATURAL SPA RESORT

San Casciano Dei Bagni Terme, Siena

The Medici family often visited the natural spring waters and even built one of the first spas in Tuscany on the spot where Fonteverde Spa & Hotel now stands. Today, with a beautiful spring-fed pool, sumptuous guest rooms, and gourmet cuisine, the hotel has kept the same level luxury once enjoyed by the sometimes infamous Italian family.
Adjacent to a 17th-century Italian portico, Fonteverde's atmosphere and architecture are steeped in history. The views from the spa are some of the most beautiful in the region, overlooking a stunning Tuscan valley, with cypress and olive trees lining the hillsides, an ancient castle tower in the distance, and unending blue sky.
The hotel attracts health enthusiasts, pet owners (there is a special "doggy spa"), and anyone wanting to sample la dolce vita.


• Oriental, Mediterranean wellness and beauty centres
• Up-to-date thermal treatments, a holistic centre
• Guests' pets, balneotherapy, Bioaquam circuit pools

About the Spa
The Terme de' Medici Spa Centre makes use of the area's renowned mineral spring water. This fantastic spa in Tuscany has a unique swimming pool, which is constantly fed by the Ferdinando I dei Medici spring, named in honor of the founder of the first spa on the site Fonteverde now occupies. Its waters are naturally 107 degrees Fahrenheit and contain sulfate, calcium, magnesium, and fluoride. The pool is equipped with a waterfall, a counter-current circuit, underwater benches, and a swan neck sculpture from which a water jet provides a hydromassage.
Five weekly programs are available at this wonderful spa in Tuscany - the 5 Senses, Anti-stress, Pure Energy, Body Special, and the Spa Experience--but guests can also choose treatments a la carte. The spa menu encompasses everything from oriental medicine to medical consultations to aesthetics. Mat Pilates, stretching, spinning classes, step aerobics, and more are offered at the fitness centre.
Can't stand to leave behind your four legged friend? Fonteverde has dedicated a garden area and a thermal pool to pets. Guests with four-footed companions can stay in special rooms, and pet-sitting is available.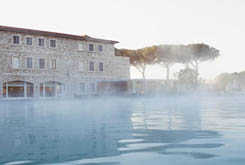 TERME DI SATURNIA SPA AND GOLF RESORT

Saturnia, Grosseto

1 hour 15 minutes from Rome

Located in the rolling hills of Tuscany's Maremma region, Terme di Saturnia Resort and Spa is close to the local village of Saturnia, named after the Roman god of the harvest. The unique composition of the sulfurous thermal waters and the fact that they remain at a constant temperature of 98.6 F have made this spa in Tuscany a healing centre for centuries and established its reputation world-wide. The ultimate spa in Tuscany for total well-being, Terme di Saturnia focuses on five areas - hydrotherapy, beauty, stress management, diet, and fitness - to help its guests achieve physical and mental balance and harmony. There is also an extensive medical programme.
Guests' rooms are in an ancient stone building with completely modern amenities. The Saturnia spa in Tuscany is open year-round, and its luxurious, tranquil environment draws international jet setters as well as spa in Tuscany aficionados.


• Located in the rolling hills of Tuscany's Maremma region
• Therapeutic waters, Plankton body therapy
• Golf opportunities and fitness activities

About the Spa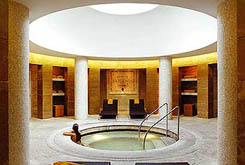 Located on the ground floor of an elegant, octagonal building, this spa in Tuscany specializes in treatments based on the natural hot springs, including mud therapy, inhalations, and baths. Guests can "take the waters" in one of the Terme's four pools, which have waterfalls and whirlpools. The Roman bath is lined in travertine stone and is illuminated by a large skylight. Spa-goers first immerse themselves in the thermal waters, which are at body temperature, and shower in a stall that can be bathed in one's choice of orange or blue light. A steam bath and a bio-sauna complete the treatment.
Terme di Saturnia also offers a comprehensive medical spa with aesthetic and wellness therapies that include Biological Age Evaluation, which determines your psychophysical condition through a sequence of tests with the goal of slowing aging. Health professionals from several specialties, such as dermatology, psychiatry, and cardiology, are available for consultation, and the spa offers several innovative therapies, including the 12-minute Energad MK3, which uses electromagnetic currents that are said to relieve arthritis and rheumatism. Circulation-stimulating vibration therapy is known for its positive effects on osteoporosis sufferers.
The spa's beauty menu encompasses a full range of massage, facials, body wraps and scrubs. Nutrimelis and Ultrivitas treatments combine honey and essential oil application with relaxing massage for a therapeutic experience. Guests are also invited to pamper themselves with a 70-minute Saturnia Long Massage. Ultrasonic Keralytic facials incorporate ultrasound to aid the skin in absorbing moisturizing and anti-aging products.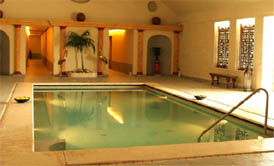 BORGO LA BAGNAIA RESORT & SPA

Bagnaia, Siena

15 minutes from Siena
In the Middle Ages, Bagnaia was an important spa in Tuscany town just outside of Siena. In 2003, the entire village was converted into a luxurious spa in Tuscany hotel complex. Today visitors to Borgo la Bagnaia can still sample the healing waters, but they can also partake of a modern spa in Tuscany with an international menu of treatments, such as Ayurveda, the Indian method of healing, a Polynesian hand and foot ritual; and more.

But the town's Renaissance look and traditions are still very much alive. Guests can stay in rooms in the main village or at the 12th-century "Filetta" complex, once the site of an important customs station. Religious services, including marriage ceremonies, continue to take place at a centuries-old church on the grounds. When not at the spa, visitors here are very likely to be roaming the extensive grounds, which encompass 2,700 acres of woodlands and gardens, or enjoying a cultural attraction at the large events venue. Families and couples looking for a historic country retreat in the heart of Tuscany flock to Borgo la Bagnaia.


• Set in the stunning and peaceful Tuscany countryside
• Buddha Spa Wellness Center built around healthful "waters!
• Unique experience - no two suites or bedrooms are the same

About the Spa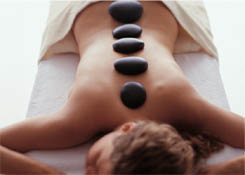 In medieval times, the heads of the church (popes and cardinals) and royalty enjoyed the waters of a natural spring on the site where the Buddha Spa opened in June, 2004. In a secluded part of the estate, the serene spa building--a cool, largely stone interior accented with Asian design touches - is filled with natural light. The amenities include a sauna, Turkish baths, an indoor pool, and an outdoor pool with a dramatic man-made waterfall with cascades of natural spring water.

In addition to "taking the waters," spa-goers can enjoy a variety of treatments, which include an algae deep-cleansing facial, detoxifying mud therapy, and shiatsu massage. Some treatments are designed specifically for men. The fitness centre is equipped with technogym equipment, and a personal trainer is on hand.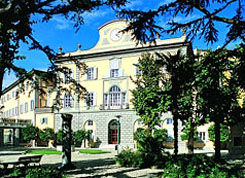 BAGNI DI PISA SPA RESORT

San Giuliano Terme, Pisa

15 minutes from Pisa

A rich historical past and the natural beauty of Tuscany lend a special presence to Bagni di Pisa, which incorporates contemporary amenities and technologies to cater to the well-being of its guests. The hotel is located on the site of an ancient spring once used by the Romans and later by the Grand Duke of Tuscany, Francesco Stefano di Lorena, who established his summer residence here in 1743. Re-opened in 2004 after a full renovation, the property has state-of-the-art amenities and numerous luxurious touches in the guest rooms and offers the latest medical treatments in its wellness center. The natural spring water, which first made it famous can still be enjoyed in two baths, and the local mud is utilized in many of the spa treatments.
Only three miles from Pisa, Bagni di Pisa is known for its beautiful gardens, and terracotta walkways, which wind through the hotel's grounds. Striking murals decorate many of its common areas.


• Mud and inhalation treatments, healing baths
• Hiking in the Pisa Mountains and the Apuan Alps
• Airclub, sport parachuting, horse-back riding and golf

About the Spa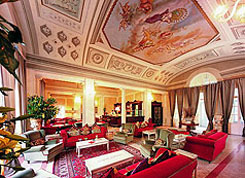 At Bagni di Pisa, baths in underground caves collect the natural spring water that originates beneath Mount San Giuliano. The "West Baths" are 100 degrees, and the "East Baths" are about four degrees warmer. The water creates the mud that the spa uses (it has been studied by the Hydrological Department at the University of Pisa). Both the waters and the mud are said to benefit rheumatic illnesses and minimize the after-effects of injury and sprains.
The hotel also offers a wellness centre overseen by medical staff. Guests can partake of treatments individually or opt for weeklong wellness programmes (which include the Oriental Experience, Anti-Ageing Experience, and Beauty Experience). The comprehensive list of services includes everything from massage therapy to microdermolifts to anti-cellulite wraps. Personal trainers are also available.
Recommended treatments include Tuina Traditional Chinese Massage, which involves pressure on the body's energy lines to re-balance organ function. We also recommended the Watsu massage, which combines the benefits of shiatsu techniques and thermal waters. The Bio-energetic check-up is ideal for anyone who wants his or her health evaluated in accordance with the principles of traditional Chinese medicine. General medical evaluations are also available at the spa.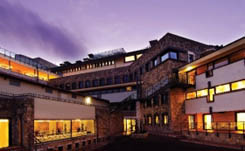 PETRIOLO SPA & RESORT

Loc. Grand Hotel Terme, Civitella Paganico

Nestled in the hills of Tuscany, the Petriolo Spa and Resort invites guests to relax their minds and bodies, while enjoying views of the surrounding Val di Farma nature reserve. Specializing in aesthetic medicine and DNA analysis, the spa provides personalized wellness programmes as well as traditional spa treatments, and the spa's outdoor thermal-spring pool is the heart of the property. The resort provides a relaxing base for exploring the history and traditions of Tuscany and organizes excursions exploring local cuisine, crafts, and more. Three restaurants provide a diverse menu, ranging from Tuscan specialities to Mediterranean-themed dishes.

About the Spa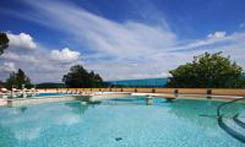 The Petriolo Spa and Resort specializes in DNA analysis and personalized programmes of non-invasive anti-aging treatments. The spa offers a range of treatments using the resorts own brand products. After treatments, guests can chill out in the relaxation room, which has panoramic views of the surrounding valley.
The outdoor pool is filled with sulphurous bicarbonate water from a local thermal spring. This, together with the indoor pool, forms the focus of the spa's emotional zone, with waterfalls, Jacuzzis, aero-massage benches, and sensory showers adding to the hydrotherapy options. A Finnish sauna, Turkish bath, Kneipp area, hydrotherapy circuit, and dry ice cave are also available.

Return from this Spas in Tuscany page to the Rent a Villa in Tuscany Home Page