CHECK AVAILABILITY

To check availability on any of Rent a Villa in Tuscany's selection of villas, farmhouses and apartments.
PLEASE COMPLETE AND SUBMIT THE FORM BELOW
After checking availability with the property owner we will email you. If you wish to book, click on the link in the email, this will take you to our BOOKING page. If you require time to find flights, please email or call us. We will put a hold on the property for three days awaiting your completed booking form.
Our Advice on How to Choose a Tuscan Villa
If you'd like to speak to a Tuscan Villa Rental Specialist then please click on the logo below to book a CALL BACK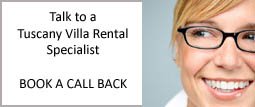 After booking one of our wide selection of villas, farmhouses and apartments, we also have a number of services, which you may find useful, including holiday insurance, car hire, chef service and more.
CAR HIRE
As most of our properties are in country locations, a car is essential to get around. Get a No obligation car hire quote from our car hire partner.

TRAVEL INSURANCE
Although we hope you never need it, we always advise all our guests to take out adequate travel insurance.

American and Canadian residents please click here.


Residents from all other countries please click here


If you have any other enquiries,comments or suggestions, please feel free to CONTACT US
Our Terms & Conditions / Our Privacy Policy
Check Availability