VILLA MASSAGE SERVICE

 Villa Massage Service, enjoy a relaxing massage at your villa in Tuscany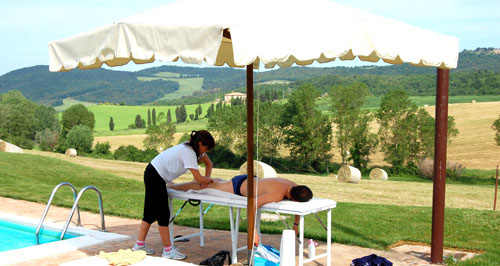 Total relaxation in Tuscany. Before a glass of wine and a tasty dinner, why not treat yourself to a relaxing massage beside the pool on a sunny day or in front of a warm hearth if the weather is cooler. Enjoy the feeling as you leave the stresses and strains of city life behind, you may even sort out a few annoying aches or pains. You can book a single session just for yourself, or together with your family and friends.

The massages are carried out by a qualified physiotherapist who has worked as a freelance therapist for many years in local gyms and physiotherapy centres.

TYPES OF MASSAGE

You can choose from the following types of massage. You don't have to decide now, you can discuss it with the therapist when she arrives:

SHIATSU – Shiatsu consists of exerting pressure (with the palm, thumb or elbow) on specific parts of the body (tsubo). This pressure transmits an impulse needed to make the vital energy of the person being treated flow correctly along the meridians (energy channels). The state of health and psycho-physical wellbeing depends on reactivating and maintaining this energy (Ki).

MANUAL LYMPH DRAINAGE - Lymph drainage aims to detoxify the skin, eliminate stasis, facilitate tissue regeneration and improve skin hydration. It drains the excess liquids bathing the cells, thus maintaining the right balance of water in the interstitial spaces, it also eliminates the waste products of cellular metabolism".

TRADITIONAL MASSAGE – Massage is known to have sedative and relaxing effects on the entire venous, lymphatic and capillary circulation system and on the muscular system. Massage causes greater vascularisation and relaxation, an anti-fatigue effect on the skin making it softer and more elastic and on the internal organs it stimulates the intestine and urinary system.


COSTS
- Cost per hour for the first 2 hours - €70
- Minimum of 2 hours
- Additional hours, (up to a maximum of 6 in total) - €50 per hour.
- Minimum half an hour and maximum one hour per person
- Minimum 2 people, maximum 6 people.

These prices apply to locations up to 35 km from Florence. For longer distances a small extra charge will apply.


Please note please book a min of 1 week before the date of service. We are unable to consider last minute enquiries  1 - 2 days before the date of service.  All services are pre paid.


Villa Massage