FLORENCE TOUR BY TUK TUK

Florence Tour, see the famous sights from the back of an Ape Tuk Tuk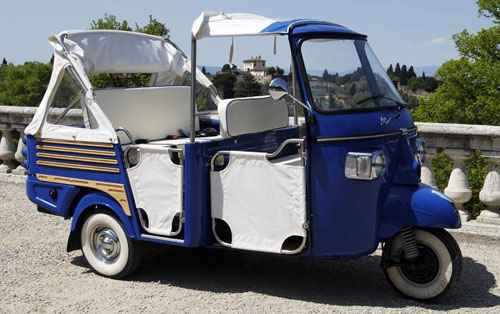 Florence is one of the most remarkable cities in the world. Birthplace to the Italian renaissance in the middle ages it has a historic city centre full of beautiful monuments and buildings. Our Florence tour uses a uniquely Italian mode of transport - The famous Ape Tuk Tuk. The Ape was first invented in 1947 by the designer of the Vespa scooter and soon became popular all over Italy, where its compact size allowed it to negotiate narrow city streets and park virtually anywhere. The Tuk Tuk or autorickshaw version also became popular in Asia and Ape's can be seen all over India (in fact, they are now produced in India).
The video below shows the Ape Tuk Tuk in action in Tuscany, it's not our actual Florence tour but it will give you an idea of what a fun way to sight see it can be.

The Florence Tour visits all of the most popular tourist sights including - The Duomo, Piazza Signoria (the David statue), Ponte Vecchio, Piazza S. Croce and even drives up to Piazzale Michelangelo for a wonderful panoramic view of the city. Lunch and a stop for an ice cream are also part of the tour.
The Florence Tour by Ape Tuk Tuk is a fun, relaxing way to see the most famous sights of this stunning city all in one day.

ITINERARY
9:30 am Departure from the centre of Florence by private Ape – Tuk tuk and English speaking driver
10:00 am Visit the main monuments in the Renaissance town centre of Florence: Duomo, Piazza Signoria, Ponte Vecchio and Piazza S. Croce
12:30 pm Lunch at a fine restaurant along the road to Piazzale Michelangelo
15:00 pm Piazzale Michelangelo and the Boulevards, a panoramic terrace over Florence
16:00 pm Stop for a "gelato" in one of the best ice cream shops in Florence
17:00 pm Return to the centre of Florence

The Florence Tour (09:30-17:00) includes: Ape Tuk tuk with English speaking driver, lunch and ice cream.


2019 Prices (per person)
| | |
| --- | --- |
| No. in Group | Price per Person |
| 3 | €160 |
| 2 | €215 |