CAR HIRE TUSCANY

Car Hire Tuscany - advice on car rental and driving in Tuscany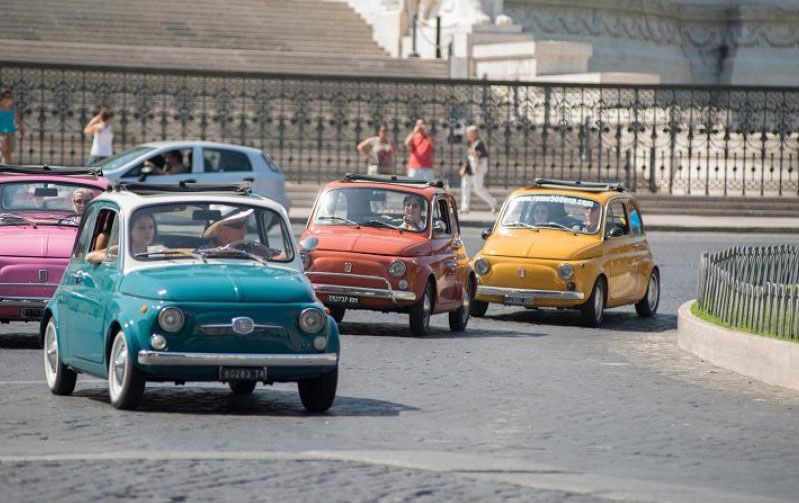 Our Car Hire Tuscany partners Rhino Car Hire were voted "Best Car Hire Website 2010" by Travel Industry Experts! Rhino offer the cheapest car rental at over 25,000 locations around the world. By searching prices from over 500 leading suppliers they offer the cheapest car hire and all of their rates are fully inclusive with no hidden extras. So, whatever your car hire needs this summer, get a quote from Rhino Car Hire and you won't be disappointed!

Click on the logo below to get a Car Hire Quote now -
Car Hire and Driving in Tuscany Advice

---
Although driving in Italian cities can be a white knuckle experience not for the faint hearted, follow our Car Hire and Driving in Tuscany Tips below for an (almost!) carefree Tuscan driving experience.


DECIDE IF YOU ACTUALLY NEED TO HIRE A CAR
Unless you are planning a "city only" break then we'd say a car is pretty essential (get in touch if you'd like to rent a property where a car is not essential) . Most Tuscan villas and farmhouses are in country locations, getting there by public transport would be very difficult or impossible and even doing your shopping would be difficult without a car.

PICK UP/DROP OFF POINT
Most people pick up their hire car from the airport the moment they arrive. It's more convenient, the office will be open, you're sure you've got what you booked and the drop off point is right back at the airport. However, others don't like the idea of arriving in a new country, picking up a car and within a few minutes being in the middle of a 6 lane ring road at rush hour. It may be worth considering getting a coach or train to a local town, use a taxi to get to your villa and then picking up your hire car the next day. Remember, opening hours for city centre pick up offices can vary so check beforehand that they are open. Another alternative is to book an airport pick up taxi or mini van (ask us to get you a quote), then have your hire car delivered to your villa (not cheap but if you really don't like the idea of driving from the airport, it's possible).

ALWAYS BOOK YOUR CAR HIRE IN ADVANCE
Not a good idea to arrive at an airport and hope the car you require will be available. At peak times, especially in smaller airports (ie where the "no-frills" airlines arrive) cars can be limited. Better to be certain you've got what you want. It's really no fun having to spend half your holiday searching for a car.

WHAT TYPE OF CAR DO YOU NEED?
The normal reply is "something small and cheap" but make sure you've considered how much space you'll need for the number of people plus luggage (plus sports gear?), nothing worse than screeching round hairpin bends halfway up a hill in Tuscany in a little car made for two, stuffed to overflowing with 4 blokes, a couple of sets of golfclubs and a Swedish hitch hiker you just picked up on the way! Most Italians drive manual gear (stick shift) cars, if you want an automatic car then make sure you've ordered and checked one is available beforehand.

WHAT SIZE OF ENGINE?
Is the car just to get you from the airport to your villa or are you planning on travelling around exploring every corner of Tuscany? You also have the choice of petrol (benzina) or diesel (gasolio), just remember which when filling up with fuel!

EXTRAS
Baby seat, roof rack, sat nav, snow chains. At peak times supplies of extras can be limited so book in advance.
JOIN A MOTORING ORGANISATION IN YOUR COUNTRY
Join one of the main motoring organisation in your country (for example Green Flag or the AA in the UK, AAA in the United States). They provide a wealth of information on motoring in other countries and some will even plan your route for you.

STYLE OF DRIVING AND ROAD ETIQUETTE
Most Italians drive in a fast, aggressive manner. Lane hopping and last minute braking are to be expected and it's usual to see cars tailgating at 130km/h. Don't expect people to slow down for you or let you out. Try to drive decisively. Italians are not used to ditherers! At a crossroads or junction, if someone flashes their lights at you it doesn't mean "please, after you" it means "watch out, get out of my way". If someone coming towards you flashes their lights it's more likely to be a warning "police up ahead" or "carabinieri speed check up ahead". peeping horns can mean lots of different things from a warning to a celebration, get used to it!!
SPEED LIMITS/PARKING/TRAFFIC LIGHTS
As we've already mentioned, most Italians drive fast but watch out for automatic speed cameras, they take a photo of your car and send you the hefty fine (your hire company will take it from your credit card even if you've left the country). This goes for ZTL zones (no or limited traffic zones), usually the centres of towns and cities. Enter one of these zones and a camera will more than likely take a photo of your car and send on the fine. If you are staying in a city centre hotel, they can get you permission to enter (ask them in advance). If you decide to drive into a main city (check out trains, they can be easier/cheaper/quicker), use one of the big car parks on the outskirts. If you go nearer the centre of town and try to find a road side parking place, the blue lines are paid spaces (you'll find a coin meter nearby, put the ticket on your dashboard), in some towns white lines mean free parking (in Florence they are for residents only), some spaces are limited time (1 hour, 2 hours etc) and you need a plastic time disc fixed to the inside of your windscreen to show when you arrived. If by chance you find a whole street that seems to have dozens of free spaces, don't think it's your lucky day! it probably means that the street is going to be cleaned and parking is banned (don't take a chance you'll be towed away and fined). In theory traffic lights work as in other countries, however late at night some go to flashing amber meaning everyone can go ahead with caution (the theory is that no one would take any notice of red lights anyway, so it would be dangerous, if everyone is allowed to go they take more care - Italian logic!!)
MOTORWAY TOLLS
Italian motorways have toll booths (pedaggio)at the entrance/exit, the cost is based on the distance travelled and payable when you exit Use this Motorway Toll Calculator to work out how much your journey will cost . When you enter a motorway take a ticket from the machine (make sure you don't join the queue for a booth, which says Viacard or Telepass, these are automated systems used by locals, UPDATE 2014 - Viacard and Telepass are now available to visitors, if you are going to be doing a lot of motorway driving they are worth considering, find out more ), when you exit the motorway, join the queue at one of the toll booths, which has either a cash or cards symbol, these days most are automated, although a few still have real people! Pay in cash or use your credit card (make sure you've checked you can use it abroad). Press the button or ask for a receipt if you need one.

DOCUMENTS
Make sure your driving licence is valid, European driving licenses are accepted. Other countries, such as the United States need an International Driving Permit (obtained in their country of residence). Also make sure your credit card is accepted for transactions abroad and has enough funds for the deposit.

TRAVEL WEATHER AND ROAD CONDITIONS
Check the weather before you leave, in Winter make sure you've got snow chains if you're planning on going up into the mountains. The Italian Motorway company Autostrade.it who manage the motorways have lots of useful information on their site including travel weather, road conditions, roadworks, petrol prices, toll prices etc. They even have real time webcams so you can keep an eye on your route.

MAPS
Check out the marvel that is Google Earth . Zoom in from outer space to have a look at your villa. You can spend hours just planning imaginary journeys, great fun. We like Bing maps too, for its good clear printable maps. Put in your destination and get turn by turn directions. If you are into gadgets, you can download maps onto your mobile device. ( Rough Guide has great maps and guides). Our Best Tuscany Apps page has a number of great map and guide apps.


SAT NAV DEVICES
Such as those made by Tom Tom and Garmin are becoming more popular and now most mobile phones and tablets have gps systems integrated. Check out our Best Tuscany Apps page for more information on useful travel Apps. The directions are pretty good, however, in country areas they can lose the signal and sometimes not recognize remote country farmhouse addresses. A number of Apps can be used offline (does take up more storage space on your device though). Always consult our written directions for the final few kms. Also make sure you insert the full place name in Italian (there are lots of San Giovannis and there is a San Giustino in Umbria as well as the one in Tuscany)


ARE WE THERE YET?
Every parent has heard this one from the kids in the back seat, usually starts about 100 metres outside the airport. Car games for kids should keep the little tykes amused for a few minutes.