Discover Tuscany! is a FREE occasional Newsletter dedicated to helping you get the best from your holiday in Tuscany.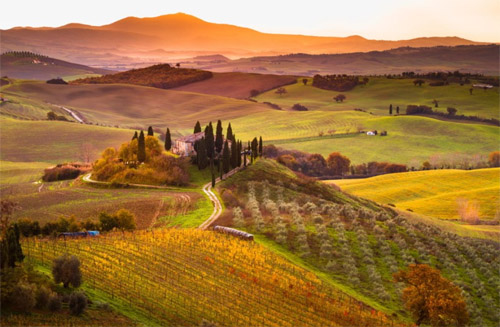 Hi From Sunny Tuscany - Summer 2016
Hope your Summer 2016 is proving to be a fun time for you and your family. Here in Tuscany, the sun is shining and folks are out enjoying visiting the sights and local festivals, tasting the local food and wine and generally having a good time.


There is Still Time to Visit Tuscany This Summer
Although lots of people have already had their 2016 holiday there are still some great last minute offers on some beautiful Tuscan villas – for example, Villa Antonello is a pretty villa near Cortona with aircon and private pool, sleeps 8 - was €4,154 is NOW €2,500 and the lovely Villa Etrusca (sleeps 22) has 30% discount (and in Sept a non Saturday arrival is possible). You can find these and lots more on our Last Minute Offers page https://www.rent-a-villa-in-tuscany.com/last-minute-offers-tuscany.html


Our Favourite Music Festival in Tuscany
One of the highlights of Summer 2016 for us was the Lucca Summer Festival - http://www.summer-festival.com/ Each year in July a line-up of top International stars take to the stage in the centre of Lucca. In the past this has included – Robbie Williams, Elton John, George Michael, The Script, Paolo Nutini and many others. This year the line-up included – Van Morrison, Tom Jones, Lionel Ritchie, Simply Red, Anastacia. We were at the Simply Red/Anastacia concert and it was one of the best gigs we have ever been to. Make a date in your calendar for next year.


Fantastic New Villas in Tuscany
We are constantly adding new properties to the site. You're sure to love Villa Argento as much as we do (https://www.rent-a-villa-in-tuscany.com/villa-argento.html) it's a modern style villa sleeping 12. Another new addition, which is sure to be popular is Villa Lino, (https://www.rent-a-villa-in-tuscany.com/villa-lino.html) a newly renovated, stylish villa sleeping 8, situated near Pienza. If you'd prefer to be in the thick of things, then Cortona Loft (https://www.rent-a-villa-in-tuscany.com/cortona-loft2.html) a chic apartment in the centre of Cortona is the stuff dreams are made of.


Say Cheese in Tuscany
If you have a passion for photography then the International Photography Festival – "Cortona on the Move" is not to be missed http://www.cortonaonthemove.com/en/ it's on til October 2 so there is still lots of time to visit, (remember those last minute villa discounts!!)


The Top 10 Mistakes Tourists Make in Italy
Found an interesting article the other day called The Top 10 Mistakes Tourists Make in Italy. http://goitaly.about.com/od/italytraveltips/tp/things-not-to-do-italy.htm I agree with most of them, have a read and see if you agree.


Early Bird Tuscan Villas 2017
It's never too early to book your 2017 Tuscan Villa Summer vacation. Grab an early booking discount and spend the year dreaming about relaxing beside your pool under the Tuscan sunshine! Villa Timo – sleeps 6, Villa Verbena – sleeps 12 has 10 – 20% discount for early bookings. Villa Oasi one of our top villas has €750 discount off 2017 bookings. If you dream about a majestic Tuscan Villa then you'll love Villa al Bosco, it has 10% discount on 2017 bookings. We are adding new early booking offers daily. To view them go to https://www.rent-a-villa-in-tuscany.com/early-booking-deals-tuscany.html


T bones, Waving Flags and Barrel Rolling
Join the locals at one of the many local Tuscan festivals this Summer. Most involve a mix of eating, drinking and Medieval parades or competitions. Some of our favourites are – The steak festival, which takes place in Cortona in mid August. The Palio horserace in Siena, 2 July and 16 Aug. The Barrel rolling race in Montepulciano is not to be missed – Last Sunday in August. For a full list of Tuscan Festival visit http://www.festivals-of-tuscany.com/


Plugs, Adaptors and Convertors
Seems trivial but a number of folks have asked for advice on using electrical gadgets in Italy. Here is some useful info (written for N. Americans but useful tips for everyone). http://goitaly.about.com/od/travelpackingtips/ss/Electricity-in-Italy.htm#step1


Happy Holidays from Tuscany
We hope you find some of the information in our newsletter useful and interesting. If you have any questions about visiting Tuscany or would like advice on renting a Tuscan villa, please get in touch, we'd be delighted to hear from you.

Happy Holidays!

The team at Rent a Villa in Tuscany

www.rent-a-villa-in-tuscany.com

info@rent-a-villa-in-tuscany.com

Registered Office: The Green, Killaloe Co. Clare Ireland

© rent-a-villa-in-tuscany.com 2016 All Rights Reserved